Dandelions on Mt. Rainier
Created for Hill House Mural Project in May 2020. Muralists are invited to create an image on the 15' wide detached garage wall in Capitol Hill, Seattle; each one will last for three months before being covered by the next artists' work.
I painted imagery of a landscape I dream of going, after the stay-at-home order lifts and the parks open up again. Many Seattlites are feeling the same way, so I hope this connects them to our beloved Mt. Rainier.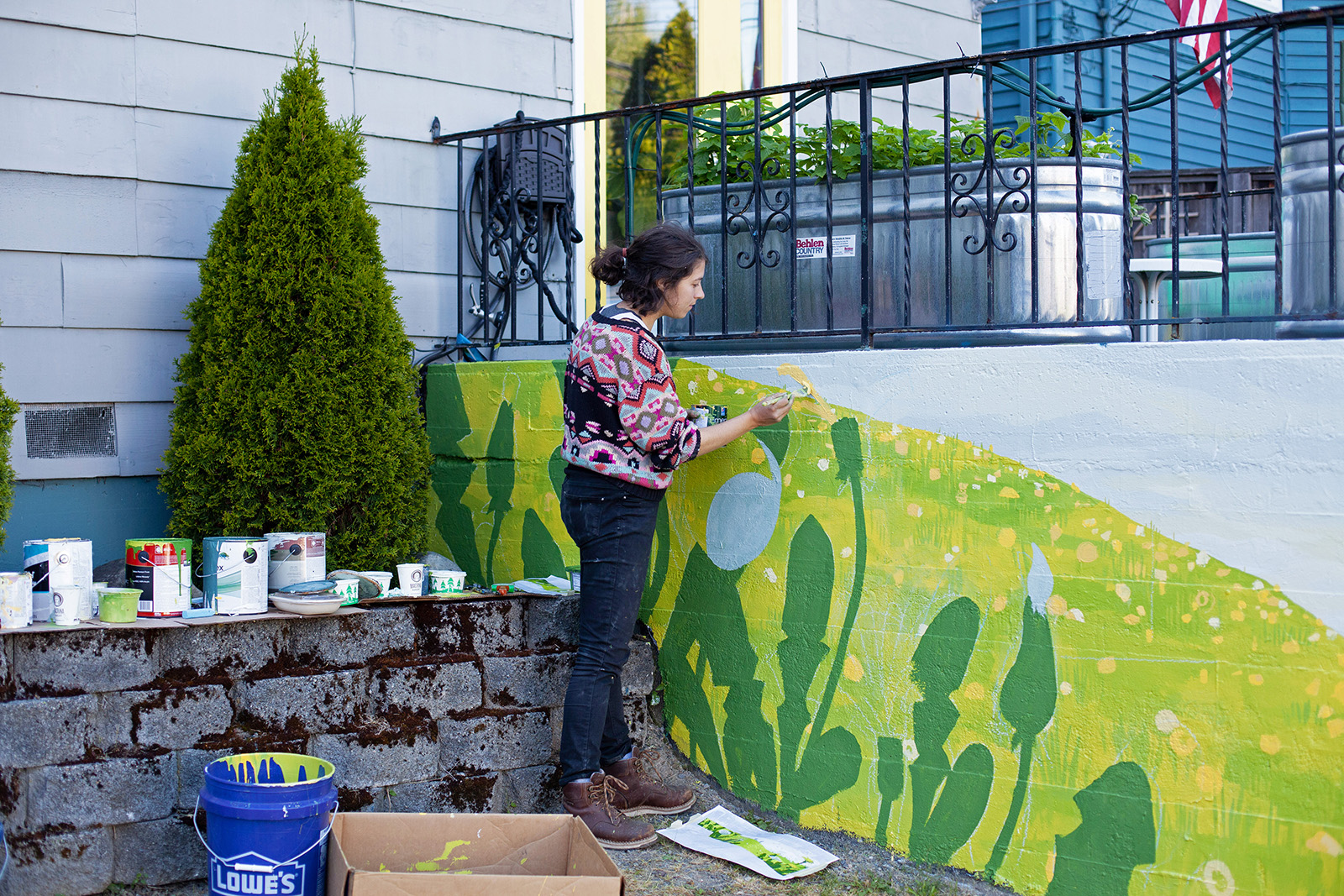 ︎ ︎ ︎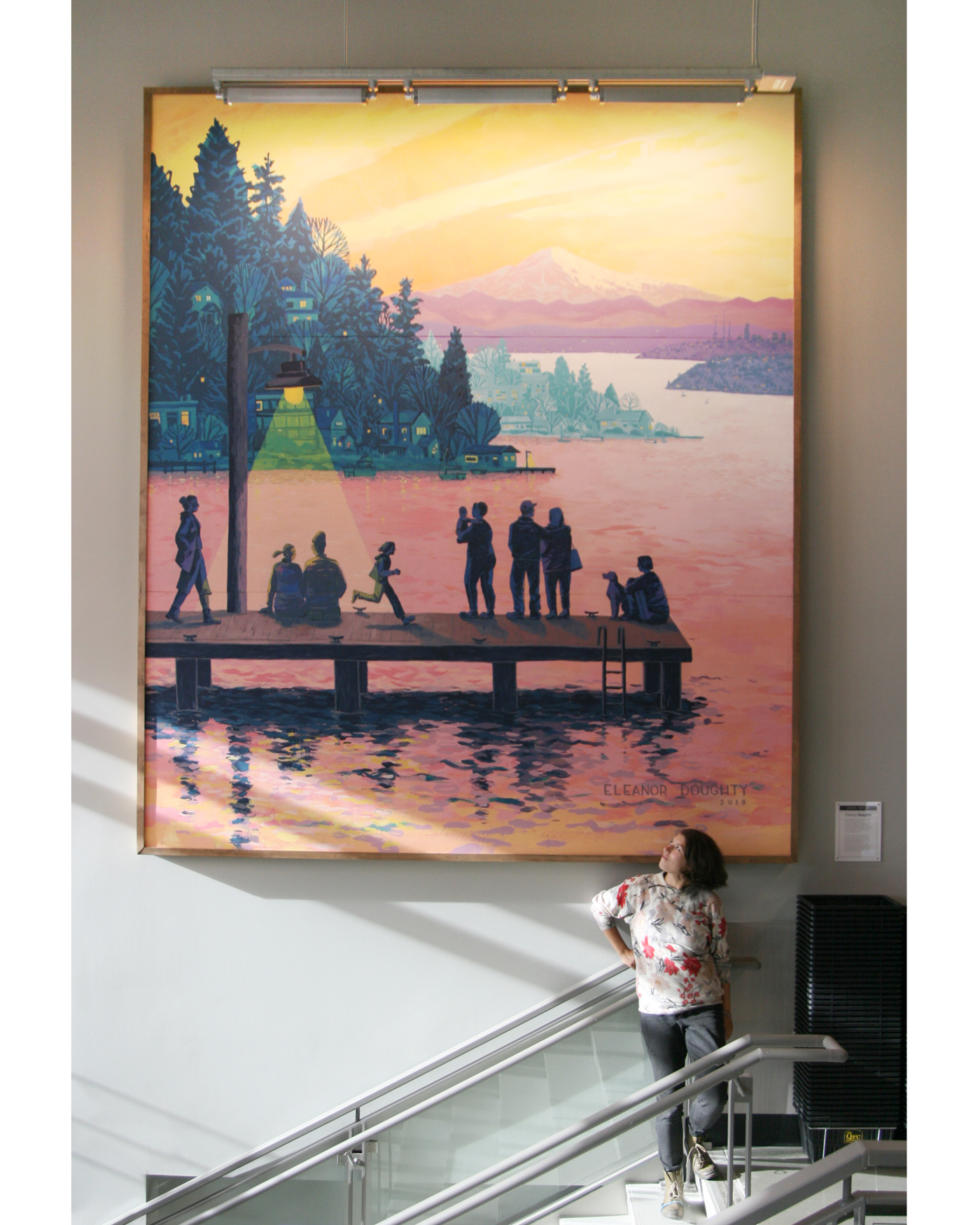 Sunset on Lake Washington - for QFC Kirkland

A 12' x 10' acrylic painting commissioned as an anchor artwork for a new Kroger/QFC supermarket opened in Kirkland, WA summer 2019. The composition is a blend of a few different views from this part of Lake Washington, highlighting the beautiful local scenery: towering coniferous trees, layers of distant hills & the Cascade mountains, Seattle skyline, Mt. Rainier, stunning sunsets.
Thanks to Kirkland Arts Center for coordinating this project.





︎ ︎ ︎
W&OD Trail: Highway of Community — Vienna, VA
3500 square foot mural painted in Vienna, VA (my hometown!) in November 2018, with Emily Herr, 3 assistants, and local volunteers. It is a landscape of historical points of interest in the town, connected by the Washington & Old Dominion cycling/running trail.
Thanks to Rappaport & the Vienna Public Arts Commission for coordinating.


︎ ︎ ︎
Spirits of the Piedmont — Charlottesville, VA
A football field-length mural in Charlottesville, VA, depicting the rolling mountains in the local landscape with life-sized figures based on students of Albemarle High School, which is just down the road.
Painted June 2018 in collaboration with Emily Herr and assisted by local volunteers.
Thanks to Alan at the Bridge Progressive Arts Initiative for coordinating this project.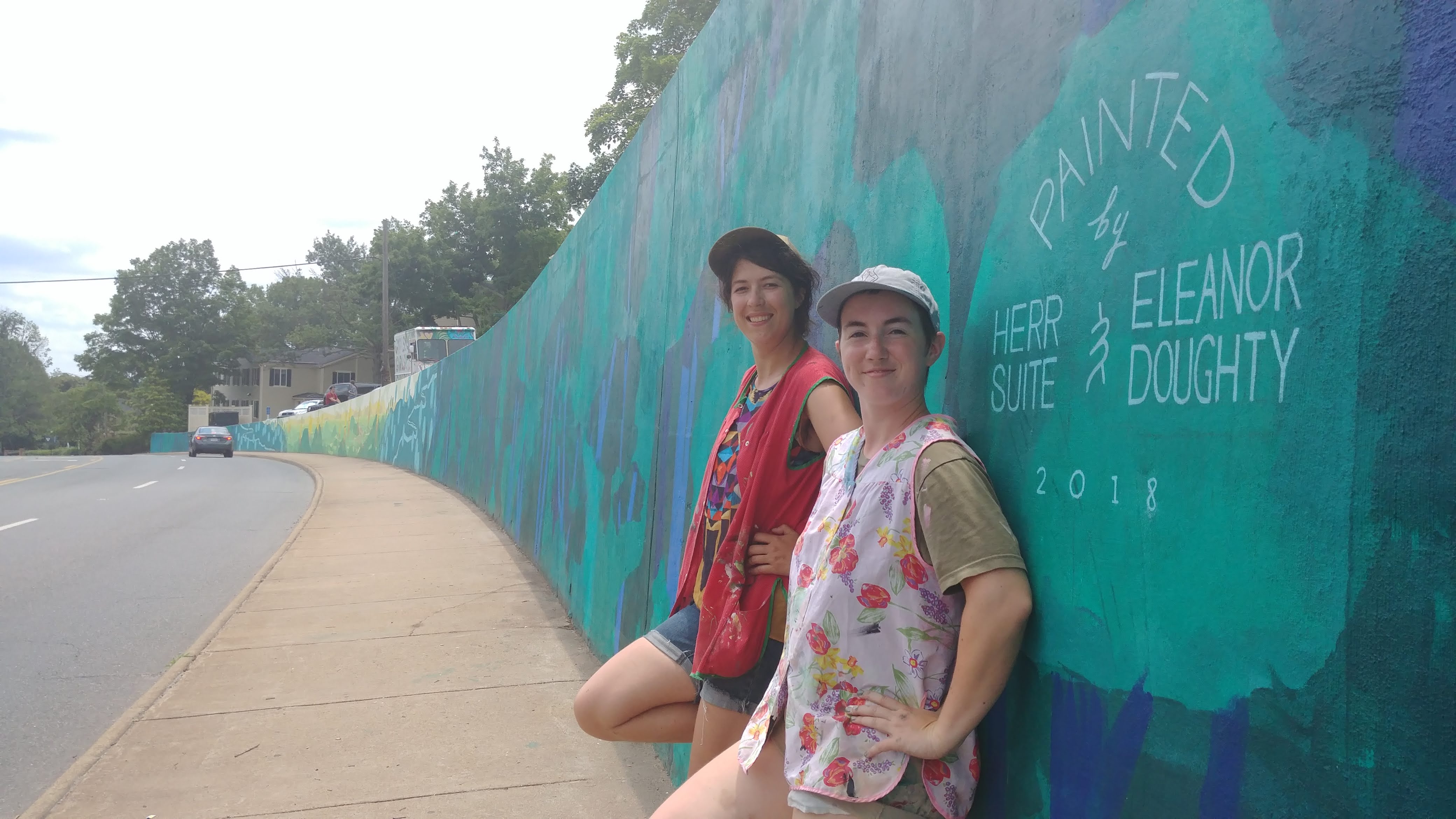 above: bonus "small" mural (30 ft long) around the corner from the main site.




︎ ︎ ︎





Thrive — Bushwick, Brooklyn, NYC
Emily Herr and I collaborated on this temporary mural with spray paint and acrylic. It only was up for one weekend!


---
︎ ︎ ︎
Kiln&Co — Vienna, VA
A wall mural for a social pottery studio. Buildings are neighboring façades along the same historic street as the client.

all content © Eleanor Doughty. Do not repost or reproduce images without permission. contact: info(at)edoughty.com